Introduction to best spots for viewing Mt. Fuji
Pirate ship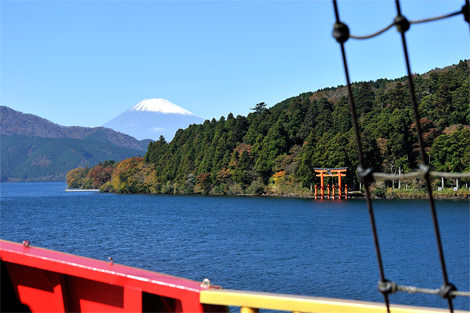 Best spot for viewing Lake Ashi, Red Torii and Mt. Fuji all together
Mt. Fuji as seen from onboard a ship sailing between Motohakone-ko and Togendai-ko, gets farther or closer .... Even from Hakonemachi-ko she shows her face on the other side of the mountain range. Departing from Motohakone-ko, is a particularly scenic spot where you can view Lake Ashi, the Red Torii and Mt. Fuji together.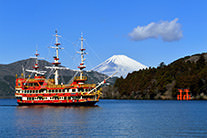 Around Motohakone-ko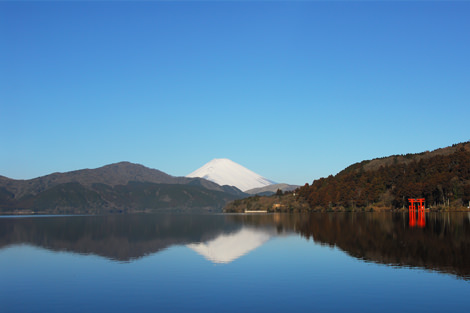 "Sakasa Fuji" a reverse Mt. Fuji reflected in Lake Ashi is your reward for rising early
Over the year, Mt. Fuji is visible more often between November to February when the air is clear. Early in the morning, when the pirate ships and fishing boats are still slumbering, Lake Ashi is surrounded by a majestic atmosphere, and the beautiful Mt. Fuji appears on the mirror-like surface of the lake. Although Mt. Fuji is also magnificent in the summer, the sight of Mt. Fuji covered in pure white snow will capture your heart and never let it go.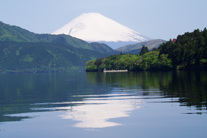 Fujimi-chaya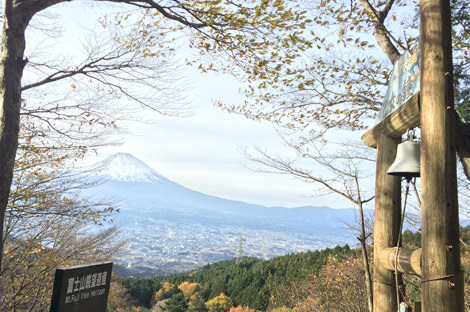 Taking a break while taking in the majestic view of Mt. Fuji
At Fujimi-chaya, located in front of Otome Pass bus stop, you can enjoy a spectacular view of the magnificent Mt. Fuji while enjoying a meal or something sweet. There is also a spring water outlet for "Hakone volcanic water" (Fujimi-no-mizu) which you can drink freely or take home, so it is perfect as a place to take a break on your drive. If you are lucky you may see Diamond Fuji!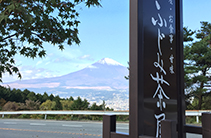 HOTORIYA cafe KOMON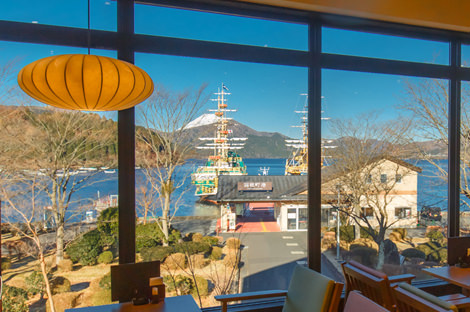 Relax at this Japanese café on Lake Ashi and take in Mt. Fuji
Cafe KOMON on the 2nd floor of HOTORIYA also offers wonderful views of Lake Ashi and Mt. Fuji. Original dishes that are perfect for lunch or a short break are available, such as Hakone Hachiridon (rice bowl), HOTORIYA special curry, special pancakes, and Honjin dango.