Royal Ⅱ
Realistic feeling that you are on the spot with a 360 degree camera!* You can freely move the viewing angle with the mouse or by touch operation.
A model of the first-rate gun ship Royal Louis, that was built in France in the 18th century and was active as a flagship of the French Navy. The atmosphere of the past is reproduced in the interior and exterior decorations and the characteristic corridors in the rear part of the ship. In the special cabin, the entire interior is decorated so that you can feel the culture of France. We have thought hard how to make your trip more fun, and this ship features seafarer puppet figures and rats (ship's wheel) etc., for you to enjoy in addition to the majestic views of Lake Ashi. In addition, the ship is fully equipped for visitors in wheelchairs.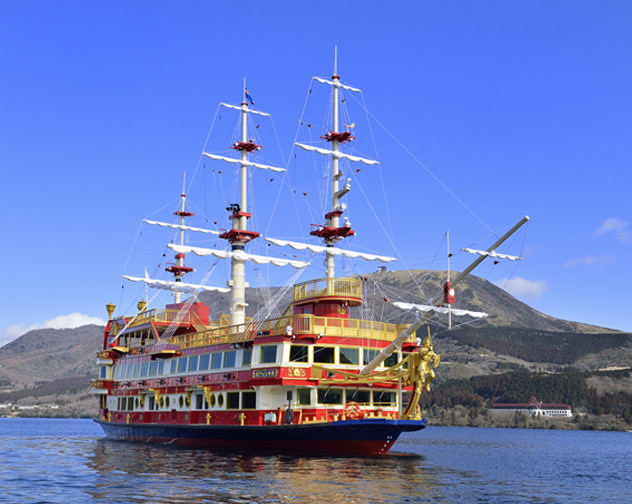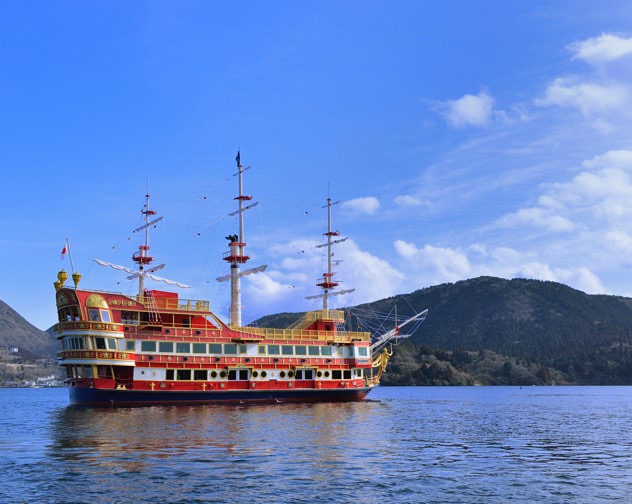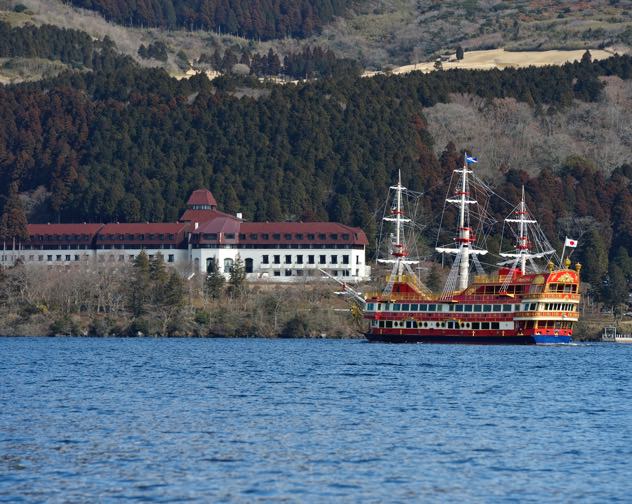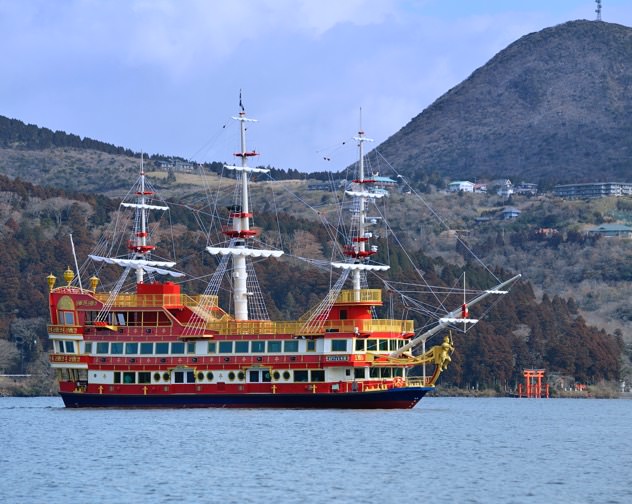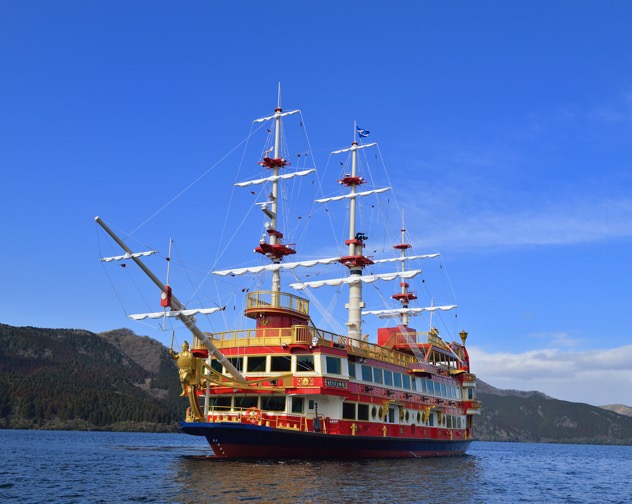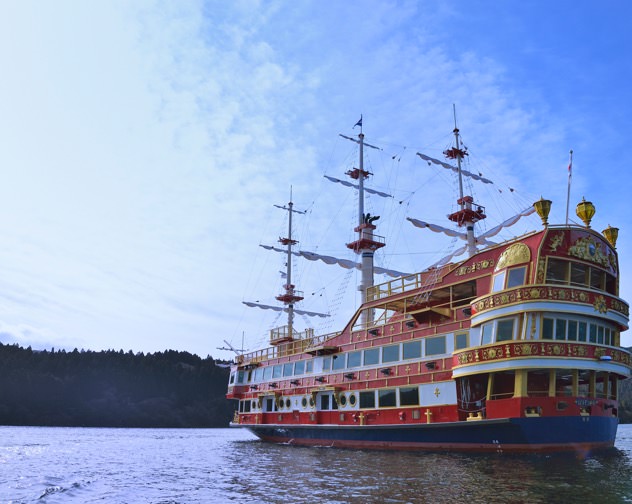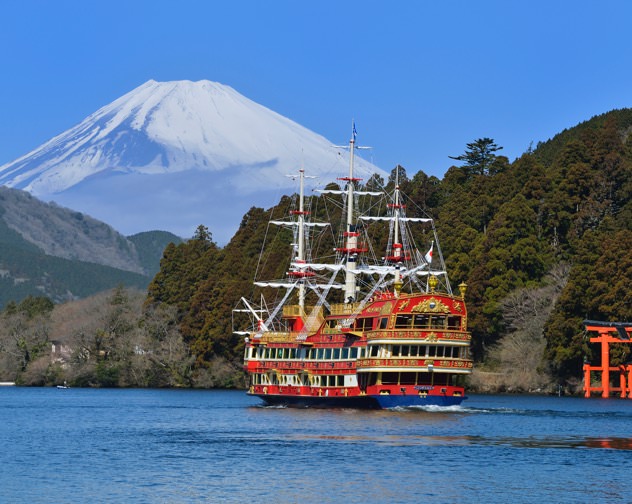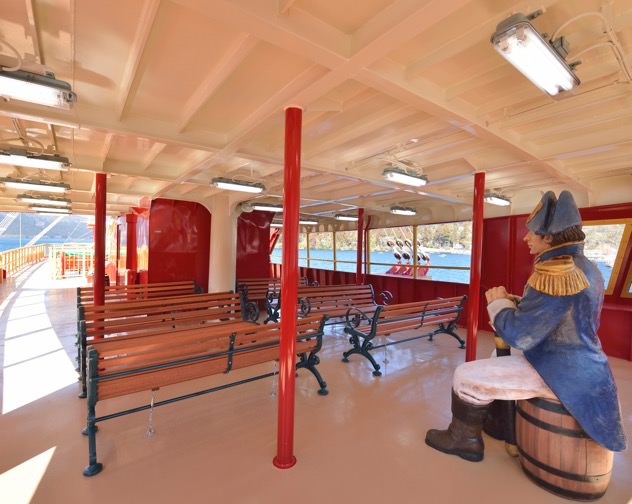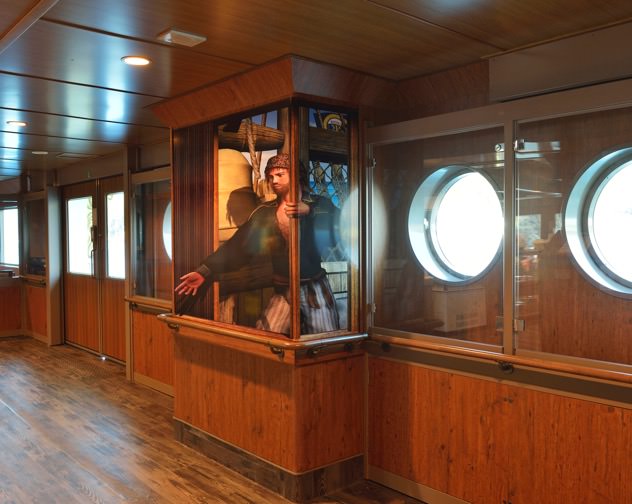 The gorgeously appointed First Class Cabin features plush sofas for extra comfort.

3-D art inside the ship! Have fun creating photos that will trick the eye.

Find the ship's captain! He may look stern, but don't be afraid to take your picture with him.
Ship facilities
Shop
Toilets
Multipurpose toilet
Elevator
Priority seats
Ship information monitor
Writing pad
Life-saving equipment
AED
Specifications
Vessel name
Royal II
Date in service
20-Mar-13
Gross tonnage
315 t
Vessel length
35.00 m
Vessel width
10.00 m
Capacity
565 (First Class Cabin: 111, Standard Cabin: 454)
Main engines
423 kW (575 ps) × 2 (Yanmar 6HYP)
Sea speed (max. speed)
10.5 knots (max. speed 12 knots)
Elevator
1 (10-person capacity)
Ship restrooms
3 locations (1 barrier-free restroom)
Shipbuilder
Japan Marine United Corp. (former Universal Shipbuilding Corp.)
Other
2 main diesel engines (423 kW)
2 bow thrusters (transversal propulsion devices at the ship's bow)
*1 knot: approx. 1.85 km/h
Ship guide map